Dear Families,

It's a "New Day" in San Ysidro School District and our Governing Board Members and I are excited to welcome you back to the 2019-2020 school year! We are so proud of the many accomplishments our District achieved last school year and we look forward to continuing to build on our successes for students this year! Our District is working together as a strong united team to implement our vision and mission which focus on student achievement.

District Vision: The San Ysidro School District, in partnership with our teachers and community, is committed to providing a high quality, multicultural learning environment that promotes academic excellence, social responsibility and physical and emotional well-being for all students.
District Mission: Quality education and opportunity for all students to succeed

The first day of school for all students is Monday, July 22nd. Each school is mailing home letters to families this week welcoming students back to school and either providing your child's teacher classroom assignment or indicating the date and time of a school orientation with classroom schedule information. If your family does not receive a letter from your child's school by Thursday of this week, please call or visit your school's office for support as soon as possible. Schools are unable to place a student in a class or provide classroom teacher information to families that have not yet registered their child for school or have not submitted verification of residency information. Student online registration is available on our district website at: https://www.sysdschools.org.

All school offices and the district office are open every day this week to assist families with student registration, verification of residency, transportation requests, before and after school program applications, and other support. Below is a list of our schools and contact information for any questions and staff assistance.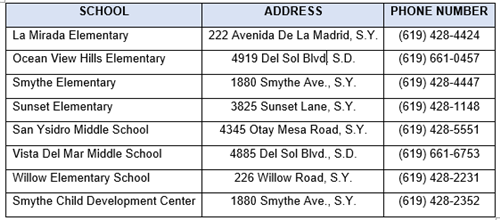 Your family's help to ensure our students start school on the first day of school (Monday, July 22nd) and have great school attendance this year is most appreciated! Research data shows that students who attend school every day are most likely to succeed in academics and in life. In fact, students with great attendance read at grade level or higher, are 4 times more likely to graduate from high school, attend college, and develop healthy life habits.

Here is the district web page link to the 2019-20 Student Calendar to help you plan for the upcoming school year: 19-20 Student Calendar

Below are our grade level school start and dismissal times:
Reminder: The first week of school (July 22-26) will be a Minimum Day schedule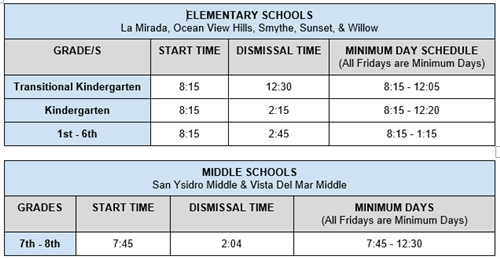 We are looking forward to a WONDERFUL school year for our incredible students!
Warmly,
Gina A. Potter, Ed.D.
Superintendent

(Si desea ver esta información en español por favor haga clic aquí)